Till the beginning of 2020, organizations were focused on reducing the complexities and improving the efficiencies of the last-mile deliveries. But in few months the scenario changed, organizations were forced to re-think their delivery strategies and the main focus shifted to the new world of contactless deliveries. Now it need not be explicitly mentioned but deliveries are happening mostly in the contactless form and as the experts say, this is here to stay. Even in the post coronavirus pandemic situation, due to the health and safety conditions, consumers will desire special care in handling their deliveries - as contactless as possible.
In all these turn of events and challenges posed by it, the stakes have risen quite high for the increase in adoption of Automated Guided Vehicles (AVGs) or drones for last-mile deliveries. This already was one of the innovations in the logistics industry which over the years had garnered a lot of media attention and drove consumer imaginations to a new level. So it wasn't too long before many companies across the globe, adapted to this new age last-mile delivery innovation and started testing and implementing it in critical package deliveries. Zipline a U.S. based startup is using contactless drone delivery service to deliver critical healthcare supplies required in the fight against Covid-19 to remote areas in Africa. Similarly pharmaceutical giant CVS joined hands with UPS to use drones to deliver prescription drugs to residents of a Florida retirement community (The Village). Commercialized drone last-mile delivery is not a thing of the future but it is already here and expanding. Gartner forecasts that in 2026, more than one million drones will be carrying out retail deliveries, up from 20,000 today.
But as global businesses get ready investing into this new technology they need to understand what it means for this shift in delivery model. Here's a look at what's in store for the contactless drone delivery.
Expanding the reach of last-mile delivery service, beyond the expectations:
Drone based delivery expands the last-mile delivery network beyond the standard expectations as you can reach even the remotest of places without any hindrance and provide enhanced last-mile delivery service. The lack of proper transport network or traffic issues or even lack of delivery service channels available in many areas, cause shippers to deliver to alternate pick-up locations for many of their customers based out of a remote areas or use local postal/courier services for the last-mile deliveries which are usually delayed or they have to decline serving them on a whole. But with the new advent of Automated Guided Vehicles, they can provide rural or remote deliveries that too in reduced costs as costly local third party delivery partners can be avoided and also provide expedited deliveries due to reduced delivery execution time with drones.
Increased in efficiency and reduced costs:
As mentioned earlier, the factor of cost reduction not only holds true for delivering in remote/rural areas but it is same for all last-mile deliveries. As Gartner analysts predict a 70% decrease in operational costs due to the shift to delivery execution by AVGs from the traditional van deliveries. Reduced energy consumptions, enhanced efficiencies due to faster delivery (hence more order fulfillment in a given time) and reduced external last-mile delivery partner costs, all sum up to a very significant decrease in cost per mile and hence reducing your operational budget requirements multi-fold. Last year, DHL launched a smart drone delivery network for its deliveries in urban China and reported reduction of delivery time from 40 to eight minutes for an eight kilometer distance and cost reduction to as much as 80%. And not only just the cost factor but you benefit even on the customer experience standpoint due to more efficient and faster order fulfillment.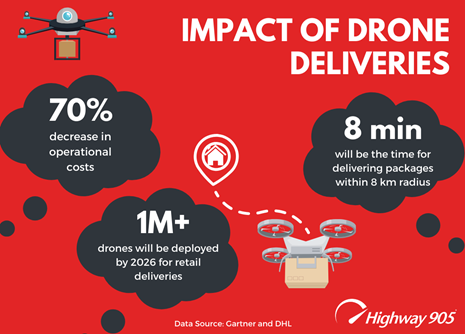 Enhanced image scanning for delivery-time validations:
In scenarios where high valued shipments or shipments bound by federal laws like alcohol deliveries requiring Age Verification at Delivery (AVAD) create a unique situation for the contactless deliveries, as document verification is needed physically. But drones with high definition imaging capability can even help us digitalize that bit of process in the future and help us create a totally contactless delivery paradigm. Drones can announce the receiver of the package to showcase the valid document while it scans it through the high definition cameras and sends it across to the drone pilot team who based on the pre-set conditions performs the validity of the document and approves the delivery. This can improve both the customer experience with contactless delivery and even the efficiencies as image proof of validated document is immediately available to be referenced with this shipment in the backend database.
Regulations and frameworks:
Even as we look forward to the new era of drone deliveries, regulations and legal frameworks create a big hurdle for the mass production of drones in the near future. As of now most of the countries are still in talks for creating a viable and acceptable regulatory framework primarily the unmanned traffic management (UTM) systems. The UTM systems will be beneficial for the air traffic controllers to have a better visibility on the users of the airspace and help them facilitate the process of granting permissions to the associated and valid usage requests of the airspace. Regulators like the FAA in the US, are still in the process of enabling UTM features but as the market analysts like Gartner suggests, large-scale autonomous drone flights in all sectors, might not be achievable before 2025.
Technology to help businesses in adapting to the new world:
Switching to this enhanced form of last-mile delivery process can only be made possible by businesses whose logistics operations are already digitally adept enough to implement this. The power of faster order fulfillment with drones can only be helpful for improving customer experience or reducing logistics costs, when the initial steps of the order fulfillment process is also efficient, highly connected and faster in processing. Which can mostly be achieved through an end-to-end digitalized supply chain management process that helps you get better all-round operational visibility, improve order processing multi-fold, is highly scalable (preferably on the cloud) and have provisions for easy integrations with any new technology of the future. Think of a situation where the drones are sent to wrong addresses for deliveries due to an inefficient order management platform, it will create more problems than solving. So businesses today, should take this opportunity to revive and rethink their business models to make them more technology centric and more customer friendly by adapting to logistics technology suites that help them control their operations in a more efficient, smarter and connected manner. If you are still in the decision phase for identifying the perfect logistics technology suite that fits into your business model then maybe we can help.
As the world moves towards realizing the new era of fully contactless delivery with drones, there remains a lot of hurdles to cross. From payload and delivery range limitations of drones to legal regulations to be formed; advancements by aerial technology companies and governments need to move in a harmonious manner to achieve this collective dream.
Think of a time in the near future, when you order online on an ecommerce site, and within 30 minutes you get a delivery notification about a drone waiting at your doorstep with the package. Won't it be the real game changer for the last mile delivery? What do you think?