In a research conducted by Gartner in the early 2019, they predicted that by 2023, over 30% of operational warehouse workers will be supplemented, not replaced, by collaborative robots.
But that was a time when warehouse operations across the globe didn't come across their biggest crisis yet, the Covid-19 pandemic situation that changed it all. In the current situation with lots of uncertainties and focus shifting to social distancing and contactless operations becoming the new normal, I think even the reports of the pre-pandemic era would like to revise those numbers on the influence of robots in warehouse operations in the near future.
The Covid-19 crisis has made the organizations rethink their internal processes. It has put the agility of their operations to test, which has increased the importance for them to pivot by leveraging technology. With most of the warehouses, opening at either reduced workforce or forced to implement social distancing norms (which are proving difficult to maintain) in the warehouse operations, the importance of the intelligent and aware autonomous mobile robots has increased a multi-fold. And today's AI and sensory guidance enabled robots are more than just the answer for this crisis situation, but it's the new class of tools to augment today's warehouse workforce, for enhanced efficiency and improved process execution capabilities.
And this is not just a near future dream but in the same survey by Gartner (mentioned earlier) 17% of the respondents accepted that they have already started piloting robots in warehouse spaces. Given the "new normal" that we have been put into, the numbers are expected to increase even more. Amazon had also announced in June that it is building the first ever fully robotic warehouse in Kemps Kreek, West Sydney, it is said to be of 200,000 square meters storage and distribution center. Mobile robots today are well equipped to work in most complex warehouse situations and can independently work around humans too, thus augmenting their work.
Let's have a look at the warehouse operations where our robotic friends might come in handy after this post-pandemic "new normal" sets in:
Pick and Place activities for light assembly: A wide range of robots (like robotic arms) and even Automated Mobile Robots (AMRs) are available in today's market for this operation and innovations in this sector keep on coming. But AMRs provide more flexibility and create a more autonomous framework for the whole picking process with almost no human interaction being needed. AMRs can be guided through their own software portal with picking tasks allocated to them. Automatic smart navigation and collaborative cloud sharing space helps them create a collective intelligence. It allows them to easily navigate the warehouse space, identify the items (even if changes to the item location has been made), create an optimized and smart picking route, avoid collisions (with human or bot counterparts), store the items temporarily, transport the items back to the required destinations. They improve the warehouse picking productivity by multi-fold, ensure faster order fulfillment and also improve the warehouse safety and social distancing norms. The only drawback is most of the systems available today are meant for only smaller to medium sized items and not for larger products.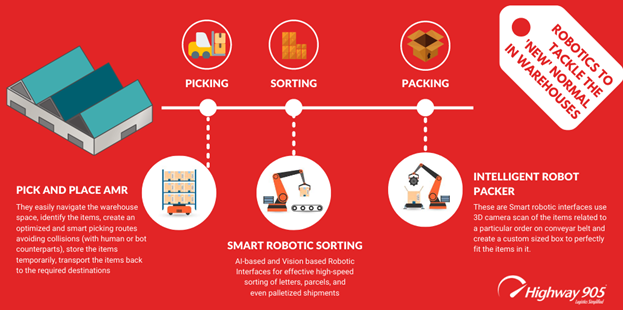 Smart Robotic Sorting: It is the new way of using AI-based Robotic Interfaces for effective high-speed sorting of letters, parcels, and even palletized shipments, which helps to augment and automate one of the most critical activities of modern parcel and express operators. Currently on a regular basis millions of shipments are sorted using a number of conveyors, scanning infrastructure, manual handling equipment, and personnel. Smart robotic sorting can reduce the dependency on too many equipment and personnel and also improve the efficiency and accuracy. Robotic systems use a combination of AI-based algorithms, camera based vision, sensory guiding devices and machine learning algorithms embedded in robotic arms in a synchronized way to sort and pick items from moving conveyor belts. The data from the visual and sensory devices are fed into the AI-algorithm to identify the items from their logos, barcodes etc. The AI system then guides the robotic arms to sort, pick and place the items in their respective places. ZenRobotics a Finnish company has implemented a robotic waste sorting system which can now execute sorting of 4000 items in an hour with high degree of precision.
Intelligent Robot Packer: Packing is another warehouse operation where smart robotic systems are creating a new wave. Amazon has already implemented their own version of Smart Robotic Packers, it uses 3D camera scan of the items in a particular order when the items travel through the conveyer belt and create a custom sized box to perfectly fit the items in it. And as Reuters reports that Amazon officials commented that their Robot Packers can execute 700 orders per hour without break. Given the current situation, now precautions need to be taken during order packing and the manual workforce is required to have the protective gears and ensure sanitization at every level. But having a smart automated robotic packing system which can be guided at the backend by the staff through the portals, it will eliminate the fear of non-compliance with the warehouse Covid-19 protocols and also improve the operational efficiency multi-fold.
Robot for disinfecting of warehouses: Necessity is the mother of innovation and Covid-19 situations has brought in new era of solutions to tackle it as well. Disinfecting large warehouses can be a huge task and many of the sanitization or sterilization techniques can be harmful for individuals involved in performing that. Massachusetts Institute of Technology (MIT) researches have teamed up with AVA Robotics to create a new way of disinfecting large shared spaces like warehouses by utilizing UVC light-equipped robots capable of sanitizing surfaces and neutralizing virus or other pathogens in the air.
As we step into the so called "new normal" of the evolving landscape for logistics world, organizations have accepted the need to ensure social distancing norms and focus on employee safety. But in order to guarantee the similar operational productivity to the pre-pandemic levels, they have to augment their warehouse personnel with automated AI-powered robotic technology. Though often joked as the "rise of robots" but in reality robots are not here to take over the warehouse, but they can be the right companion that their human counterparts need to create a safe, more productive and seamless operational structure in the warehouses of the future.